Where do your congregants go to see everything they're involved in at your church?
How do people RSVP for an event, see what they signed up for, receive, and respond to scheduling requests without having to check four different places?
Now they can check a single place for information on everything they're involved in— My Church Center.
What is My Church Center?
My Church Center is your congregants' new home base—where they can see important updates and notifications regarding anything they're involved in at your church all in the same place.
From the My Church Center tab, congregants can see and respond to:
Scheduling requests and confirmations in Services
Bookmarked events in Calendar
Upcoming events they've signed up for in Registrations
Upcoming calendar items and RSVP requests from events in Groups
My Church Center is a way for you to centralize information about what's going on and make it easy for your congregation to participate in the life of your church.
Accept and Decline Scheduling Requests
Think of your volunteers who aren't on the production or leadership teams—your check-in volunteers, ushers, security, and donation counters.

People in these roles don't need to see the Order of Service, plan attachments, or rehearse in Music Stand. All they need to serve is the ability to accept or decline requests, see their upcoming schedule, and set up their blockout dates, which they can now do in Church Center instead of needing to go to Services.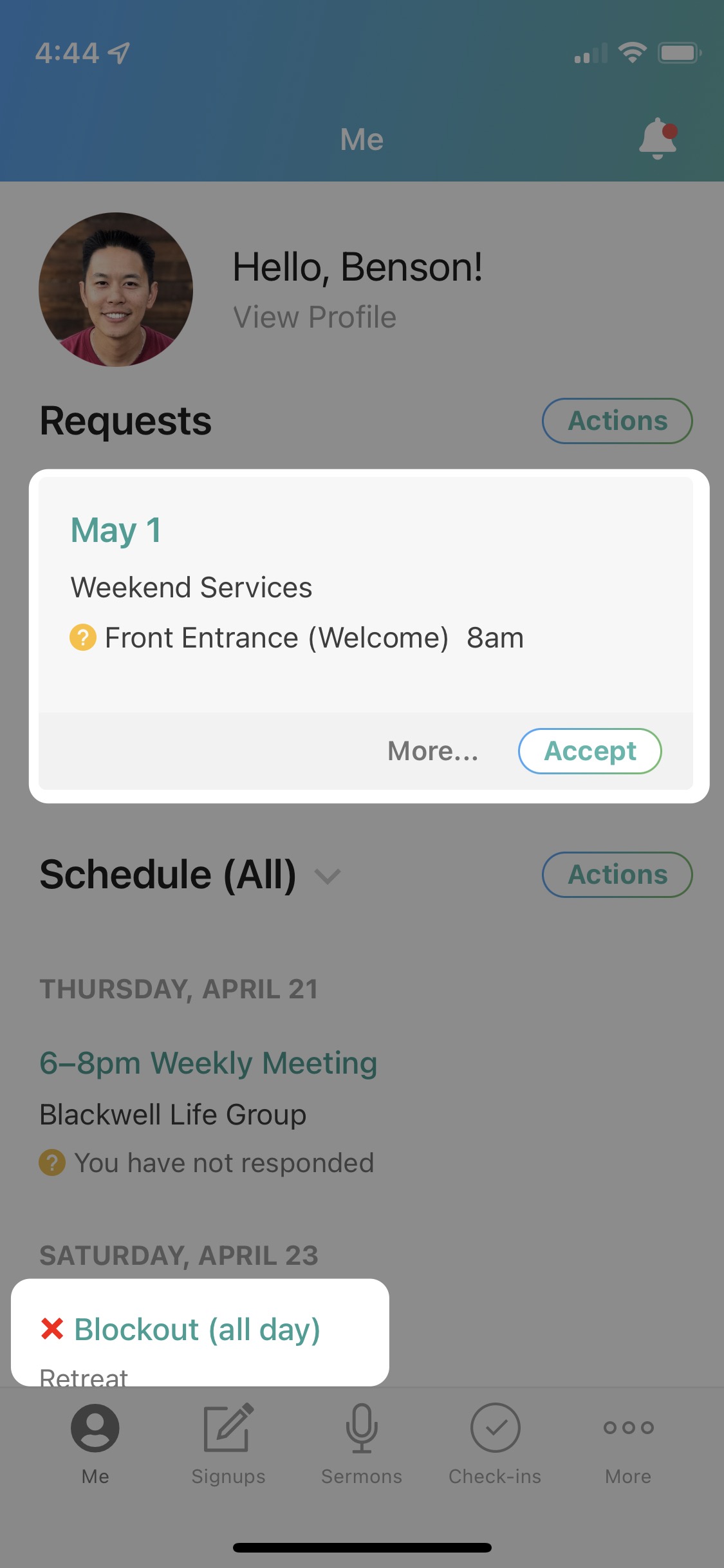 Seeing their scheduling requests in the same place as everything else your volunteers are doing at the church is a great way to simplify the lives of your team members and staff.
And for those who do need to do work in Services, they can easily get there when viewing a plan in Church Center.
See Bookmarked Events and Active Signups
Do you ever bookmark something to look at later, then forget to check your bookmarks? Anytime someone at your church bookmarks an event from the master calendar, it'll show up in My Church Center so they are sure not to forget about it!


Then, any events people have actually signed up for will also show up here to remind them of what's around the corner!
Having all the events in a single place makes it a little easier for people to see what's coming up, and remember to act on anything they are interested in.
Respond to RSVP Requests
Group leaders can send RSVP requests to their group members, who can now see the notification in the My Church Center tab and respond from there!
Enable My Church Center for Your Church
My Church Center is a built-in feature that you can enable for your congregation from the navigation options in your Publishing account.

As soon as you enable My Church Center, it becomes the new start page for Church Center app and web.
Not quite ready to make it your home page? You can direct congregants to go to My Schedule under your profile.
If you have any questions as you're getting set up, or any suggestions for what you'd like to see included in My Church Center, you can reach out to our support team from the ? in the top right corner of any of our products. We'd love to help!

💙 Planning Center