If a worship service were a coin, Services and Publishing are the two sides of it.
While Services helps you handle all the planning and coordination, Publishing is a way to host a live streaming experience on the day of and provide congregants with the option to watch the service later.
Today, we released an integration between these two products—so you can connect the planning side to the experience side.
Import Sermon Details from Services to Publishing
In January, Publishing released a feature to let you group your sermon episodes into series.
Now, for churches that already use Services, all of the information needed to create the series in Publishing is already planned and laid out.
This new integration connects Publishing episodes to Services plans so you can import all of the series data from Services into Publishing.
The related plan in Services will now have a new section with links to watch the video or edit it in Publishing.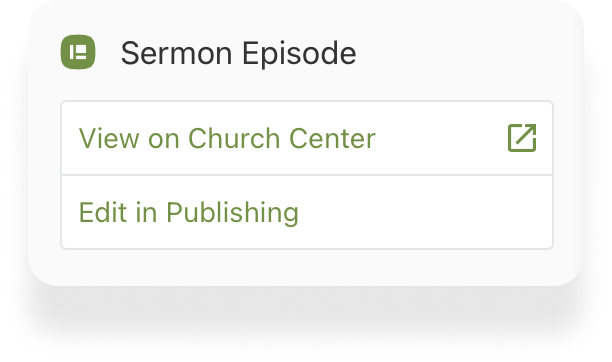 And after you do your first import from Services, you can connect that Publishing channel with that service type so you can select a plan the next time you create an episode.
This feature is available now to anyone with a subscription to both Publishing and Services! If you want more information, check out this article, or reach out to our support team with your questions.
We are so excited to build on this partnership between Services and Publishing to help streamline the process of planning a service and making it public.
Happy planning and publishing!
Team Publishing